How does it feel to get your order on the same or the next day? You feel special; however, this wasn't the case earlier. The introduction of technology has totally disrupted the logistics industry. On the other hand it has also given birth to the eCommerce.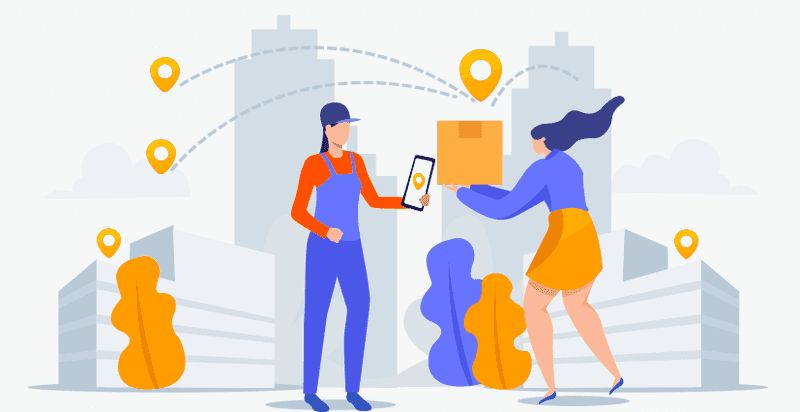 And today due to technology both logistics and eCommerce share a common link. The symbiotic relationship between logistics and the eCommerce is strengthened by this link which we call the last mile delivery.
But what exactly is last mile delivery and why does it matter? Let's find out.
What is last mile delivery?
As the name suggests, last mile delivery is the last leg of the delivery process which takes place from the distribution center to user's doorsteps. The last mile delivery can range from just a few blocks to 50 to 100 miles.
The prime objective of the last mile delivery is to deliver the package to the customers as quickly as possible. Last mile is considered as the most important element in the logistics and supply chain business.
It's also the key to the customer satisfaction. Last mile is the most time consuming and expensive part of the whole shipping process.
So, if done right, it can save a massive amount of time and money which in turn can make your business both efficient and profitable.
Read More: How to cut down your last-mile delivery cost to increase your profit margins?
All last mile deliveries are not the same. Some are easy which involves a journey on major roads and highways carrying a large number of shipments.
Whereas, the others are complicated, which involves navigation in a crowded city where you've to explore all the corners and the depths of the rural area to make the delivery.
Significance of last mile delivery in the technology era
As mentioned earlier, last mile delivery is the most important element of the supply chain business.
However, in the recent past the significance of last mile delivery has increased rapidly due to the introduction of technology in the retail sector which in turn gave birth to the fierce competition among the eCommerce companies.
This wasn't the same around 20 years ago. During that time brick and mortar was the king.
Online sales did exist even then; however, the shipping took usually took around six to eight weeks. But today, no one would wait for that long. People expect at least a same day delivery, if not faster.
The eCommerce sales are increasing every year along with customer's expectations of a faster delivery. According to a study, the estimated growth percentage for the global eCommerce sales in the year 2020 will be 16.
Over the last 20 years, the retailers have become extremely smart about their last mile delivery as they know it's the key to get ahead of the competitors.
Amazon is a perfect example of that. In the year 2018, Amazon took a massive chunk of 41% of the US total retail market share. And this mainly happened due to Amazon Prime's same day and next day delivery services.
Many other eCommerce giants are trying to emulate the Amazon's success by improving their last mile delivery to render faster deliveries.
However, it's not easy. Enterprises have to face a cluster of challenges to achieve it.
Challenges associated with last mile delivery
Last mile delivery is not an easy task. It can easily go out of hand and escalate into a catastrophe with missed delivery schedules, higher fuel costs, and incorrect deliveries. Let's see what are the other challenges involved with the last mile delivery.

Limited visibility
One of the major issues related with last mile delivery is of the limited visibility. It's because the fleet owners in most of the countries hails from an unorganized sector which causes the lack of visibility.
Ensuring seamless deliveries
As discussed earlier, the demand for next day and same day delivery is rapidly increasing. On top of that, customers, especially millennials also demand flexibility and customization along with the real-time tracking.
It often becomes a challenge to ensure seamless delivery along when you have to fulfill a variety of customers' demands.
Cooperation between customer and the delivery person
This might seem as a trivial issue; however, it's a serious challenge that all companies face. Many a times it happens that the customer is not present at the delivery location or he is out of reach.
These undesirable situation causes waste of time and money. Moreover, it also exposes the package to the risks of damage and theft.
Route optimization
Another major challenge is to ensure the productivity of your drivers/delivery executives and to continuously optimizing routes.
Read More: How Route Optimization Enhances Last Mile Delivery Operations
Failing on either of the aspects can adversely affect your customer experience and inflate your operating costs.
Assembly, skilled unpacking, and installation
Many packages require skilled unpacking and assembly on delivery. This arises a challenge for shippers to ensure that the final product is exactly the true reflection of what was sold and promised.
Moreover, there are also some products which requires skilled technicians for its installation. With more and more bulky items migrating from traditional retail to the eCommerce, shippers must hire more technicians to fulfill the void.
Last mile delivery encounters a plethora of challenges and roadblocks of which few are mentioned above.
However, there's a way to overcome all these challenges. And that way is the last mile delivery software.
But what's a last mile delivery software?
It's a platform or software that assists companies in managing their last mile delivery in a transparent, efficient, and controlled manner.
It achieves this with the help of features like route optimization, auto-dispatch, bird's eye view, electronic proof of delivery, real-time tracking of shipment, and integrated customer collaboration and many more.
Now, let's dive deep as to exactly how a last mile delivery can solve all the core problems of last mile delivery.
How last mile delivery software boosts your last mile delivery
The last mile delivery solution is a feature-rich software that can holistically transform your business by making your last mile delivery more efficient than ever. Let's have a look at some of the major features.
Route optimization
Route optimization plays a crucial role in minimizing the total delivery time by discovering the most efficient routes.
It takes several factors like traffic, location, capacity, and time under consideration to come up with the most efficient routes.
Moreover, it also allows you to make any last minute changes or re-optimize by sending a real-time update to the driver.

Auto-dispatch
The auto-dispatch feature helps in the efficient management of all the hot-shot assignments and on-demand orders.
It assigns the most suitable driver for the right task at the right time and thus minimizing the service time and labor costs.
Bird's eye view
Bird's eye view feature helps you to set your priorities straight. It also helps you to focus on the most important aspects with team, time, and status filtering.
With this you can search using time, text, and status based queries to quickly find the customers, drivers, and delivery tasks.
Proof of delivery
The last mile delivery management software enables you to complete the delivery with the help of in-app signatures, photos, notes, and barcodes.
Real-time status update
The last mile delivery management system makes your delivery process transparent by providing real-time status updates of the shipment to the customers.
The customers know exactly when their shipment would be delivered and by whom. They are also informed in case there's any delay.
Moreover, the customers can themselves contact the delivery service agents via chat or call if they want to raise an issue.
Real-time visibility
The Real Time Delivery Tracking System in the last mile delivery software helps you to increase the fleet visibility. You can see where your vehicles are and how many of them are idling.
The real-time tracking of fleet offers you a better control over your vehicles. Moreover, it also helps in minimizing the theft, spoilage, and pilferage.
Audit key metrics
With a robust Logistics Management Solution, you can visualize important metrics such as success rates, service times, on-time rates, distance traveled, feedback scores, and many more. In addition, you can also segment or filter the data by day, week, drivers, team, or even an hour.
Reports & analytics
Obtain key business insights which helps you take insight-driven business decisions. Report and analytics provide you with crucial data in the graphical form.
This graphical representation helps you in indicating how good or bad you're performing. Moreover, it also suggests ways to overcome it.
Benefits of last mile delivery solution
We saw all the major features of the last mile delivery software, now let's see what benefit your company can get from it.
Flexibility in delivery
Modern day customers, especially the millennials appreciate if your services are flexible and customizable. They live a busy & fast life and are mostly on a run. Due to which they might not receive the shipment on a particular time.
But with last mile delivery software, you can allow your customers to change the time and location of delivery. The solution makes your services flexible along with enhancing the customer satisfaction.
Boosts scalability and productivity
The last mile delivery software boosts productivity by eliminating any unnecessary idling or unplanned diversions.
It also provides the efficient routes for the drivers to execute the deliveries in the minimum time possible.
Last mile delivery solution also makes it possible to quickly on-board any 3rd party executive if any of the in-house capacity gets exhausted.
It also assists managers to optimize the total number of deliveries in a day by efficiently planning routes.
Read More: Challenges & Solution for running a successful courier business and satisfying customer needs
Increases profitability
Last mile delivery software boosts fleet productivity, optimizes routes, scales your business, enhances customer satisfaction & loyalty, reduces fuel consumption, minimizes fleet management expenses, and increases customer retention. All these factors combined increases the profitability of your business.
Streamline shipping & delivery operations
The last mile delivery solution automates the repetitive tasks thus saving time, money, and energy.
Moreover, it streamlines all the other shipping & delivery operations thus making your overall operations efficient allowing you to serve a large number of people at once.
Future trends of last mile delivery
The last mile delivery is crucial for both eCommerce and logistics companies. And that's the reason why they would be keen to know what the future has in store for them. So, let's have a look at some last mile delivery future trends.
Use of sensors
In the near future, we might see logistics companies using sensors to track temperature of the sensitive items.
This will allow frozen foods, pharmaceutical companies, and spirit manufacturer to know the temperature along with humidity level at each stage of the delivery.
In addition, the fulfillment centers can also use weather forecast data which will allow them to plan and add any additional packing material to counter the temperature variation factor.
Delivery by drones, self-driving cars, and robots
Delivery by drones, self-driving cars, and robots might seem as a science fiction fantasy. However, one shouldn't be surprised if it becomes a reality soon.
Many companies are already working on developing their autonomous vehicles and drones that can make last-mile delivery revolutionary.
If it becomes reality then it would slash down the labor cost which currently accounts for 60% of the total cost.
Robotic delivery will increase the productivity since it can be done 24 hours a day. Drone deliveries on the other hand might face some limitations in urbanized and residential areas due to operational and regulatory issues.
City warehousing
City warehousing is one of the growing trends among the logistics companies.
These companies are leveraging the urban warehouse space to make the last mile delivery faster and simpler. So, in future, you might see many companies acquiring warehouse spaces in cities.
Carrier becomes salesman
Nowadays, retailers can anticipate what a customer might want by, even if they didn't order it. They can do this by studying a customer's buying pattern.
This has triggered the idea of mobile warehousing. In this the driver or the carrier can load products which weren't ordered by the customer but are likely to get sold.
This helps the drivers to upsell while they are delivering. The driver along with delivering the ordered product also tries to pitch for the product which was not ordered. These products are usually those which the customers might want.
Conclusion
Last mile delivery will always remain the most significant component of the logistics. So, any logistics company who wants to survive must strengthen their last mile delivery.
Getting a robust last mile delivery solution can surely boost your last mile delivery and hence increase the profits.
However, adopting the latest trends along with a last mile delivery solution of top-notch quality can take your company to the next level.