A drone is an autonomous unmanned aerial vehicle (UAV) that can be programmed for automatic routing and delivery. These come handy in delivery medicines which is easier to carry and can add value to the pharma supply chain. Drone helps to deliver to places with the high expense involved or poor infrastructure and thereby plays a significant role in last-mile delivery.
The pace with which they are now being used for delivery, even Amazon is experimenting with the delivery mechanism offered by drone as its logistics and transport market is forecast to grow 20% in coming times.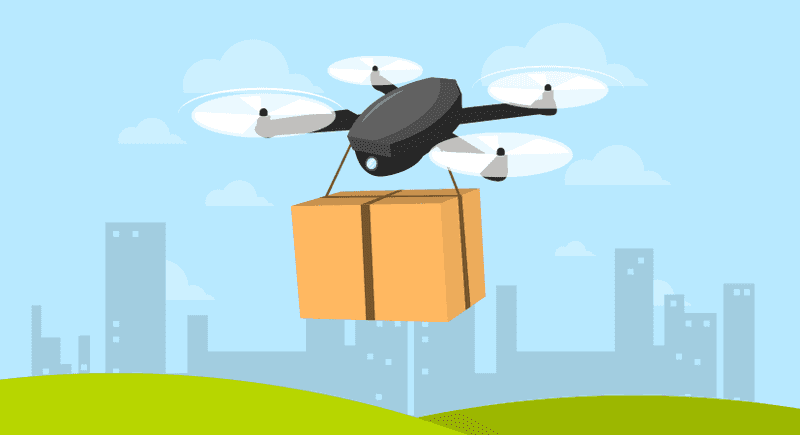 Read More: Make your courier & parcel deliveries swift and reliable.
Many companies testing drones with the drone delivery tracking system to capitalize better on the deliveries offered by UAVs. They have a certain ability to deliver faster and almost without extra resources which makes it an ideal option for eCommerce vendors. Such faster delivery of goods is one reason why drone logistics and transportation market is experiencing a surge.
Here are two reasons that attribute its growth:
The eCommerce market is growing rapidly and businesses now seek for a key differentiator. This fuels the drone logistics and transportation market along with its ability to be compatible with the delivery tracking management software.

Relaxing the transportation regulations for commercially using drones have made it possible for companies to experiment with effective aerial delivery routes.
How Drone Delivery Impacts Logistics?
The modern logistics industry is quickly adopting the transport drones and to the industry's delight and dismay, FAA has long released the drone operating rules for commercial purpose. A few years back the industry moved over from the experimenting zone to acceptance.
This was back in 2016 when the transport drones were tested with people setting up high expectations. And now the logistics industry is seeing an explosion with even the local eCommerce vendors ready leverage the benefits of drone delivery.
The key differentiator for transport drones is that it can impact ocean freight as well. It can simply make the review and inspection process simpler. It is just the same as any ocean cargo ship having the ability to automatically update necessary information into the transport management system through drones. Drones can monitor the cargo loading and unloading activity and add value when it comes to unloading the shipments.

Use Case to understand how Drone drives Logistics Industry
Back in 2016 in Rwanda, GAVI along with Zipline and UPS collaborated on a delivery-by-drone project.
The goal was to minimize the expenditure of stocking important medical products in a market where there is a poor logistics infrastructure. This makes drone delivery an ideal, cost-effective choice for market to adopt.
This project provided necessary infrastructure like launching and landing stations for delivering up to 150 emergency deliveries in a day. These deliveries were made to 21 predetermined transfusing stations in the country's western region.
That region has the high death rate of pregnant women due to postpartum haemorrhaging, the faster transportation of blood to clinics was the main goal.
Till today, Zipline delivered over 10,000 packages in Rwanda and also runs a couple of distribution centers with an idea to scale it to become full emergency delivery across the country.
Freight Drones Anticipated to Experience the Highest Growth
The logistics industry is gradually witnessing the rise in freight drones usage. This makes delivering medium to heavy goods in a secure manner. Even in the military, drones are used the military segment, drones are being tested to deliver supplies.
Moreover, as the supply chain and economics of drones tend to benefit the military, big courier companies like DHL and even Amazon is using drones to disrupt logistics industry.
Companies investing heavily on logistics management solution blended with the use of drones are expected to witness the highest growth in coming times. Though the dynamics may change if we are to include the passenger drones shortly on which companies like Uber, Boeing and Airbus are relying heavily on upon.
But with the tested drones delivery system, the companies relying on drones for big-load transfers will have to wait. There are still plenty of other ways through which drones can replace a conventional routing system that the logistics industry is using for years.
Drones for Small Package
The air shipments are affected by the use of small drones as Amazon has already rolled out Prime Air plan a couple of years back. It has been noted that the use companies are already using drones for product delivery across that country for anything that weighs less than 3 kg. This is changing the way how small packages took too long to get delivered.
Now, the tested drone deliveries are yielding positive results by dramatically changing the way how small packages get delivered. It is an optimized last-mile delivery system as the package directly moves from the truck to air. And yes, some people are willing to pay extra for such faster delivery services.
How Drones can replace Rail
While trains are ideal for moving a whole lot of goods within the country, it is too limited a resource. It takes a while to unload and batch it based on area. Again, introducing drones here means they can be deployed from a train and set to distribute packages while they are approaching nearby destinations.
One way is to load an apt logistics management solution to the drones that are designed for a specific region. This will have eCommerce vendors paying only for the country-wide delivery through drones without needing any additional time to have the train reach its destination.
Read More: Major Challenges & Solution to satisfy customer needs and running a successful courier business
A bigger factor in finding the optimized delivery routes is related to transportation consolidation. Especially when it comes to using trucks for delivering goods, the autonomous land and aerial vehicles offer an ideal solution.
Every time a business chooses to deliver goods through drone it is bound to save time and space that helps in freight consolidation by bringing down the overall costs. Using on-demand delivery software for drones can provide information as to where each drone are located while being able to load and unload freight from a truck.
Final Thoughts
There ought to be increased collaborations amongst the drone delivery companies with the service and product businesses. The key is to influence market presence by introducing a faster, interesting and convenient mode of delivery services in the region. Also, there are chances of vertically integrating the service providers as they acquire drone transportation companies. This helps in efficiently controlling the distribution channel while providing timely deliveries.